The master bedroom should be a sanctuary where you can relax and escape to get away from it all, whether that be the worries of the day....or the kids! Often, this room can be a neglected space because, frankly, people don't typically go into the master bedroom. Yet, you deserve a great space to enjoy, so let's get that room decorated!
Great master bedroom design is very personal, but it starts with a great room layout. Take into consideration the windows in the room and the furniture that you would like to incorporate into the space. Often the bed is the focal point of a master bedroom, but it is important to consider other areas of the room that provide functionality and a place to spend time.
This master bedroom takes advantage of the light of the window with a small area for reading.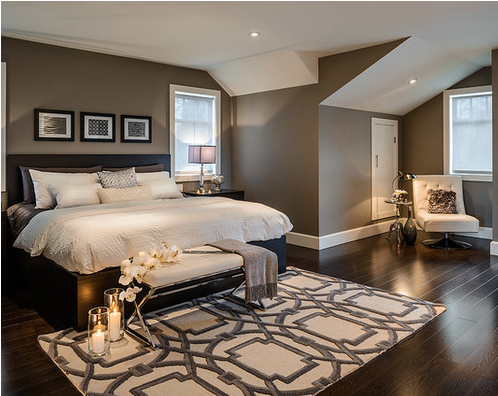 Lighting is an important consideration. Much of the time spent in the master bedroom is with the lights out, but adding a beautiful lighting piece as a focal point can beautify the room.
Adding a feature wall or large piece of art behind the bed can bring great visual interest to the room. We carry many products that can help you create the feature wall look that you are after.
Beautiful linens tie the room together for a complete and put together look. It is a good idea to purchase your bed linens BEFORE painting the walls. Paint colors are limitless and easy to match a selected linen, but finding a bedding set to match your paint color may be significantly harder.
The little details to your room show off your personality and bring a personal and homey touch to a master bedroom suited just for you. This beautiful bedside table, artwork, and collection of favorite titles shows how you can speak volumes in the details you put into your room.
As Valentine's Day approaches, take the time to make an improvement in your home that is just for you. Our designers would love to help you create a relaxing retreat.